Find your username and password for a manual VPN setup
In order to set up BulletVPN manually on your router, you will first need to obtain your BulletVPN credentials (i.e. username and password) for the manual configuration.
The Username is the email address that you used to create your BulletVPN account.
The VPN password for manual setups is not the same as the password for apps and the account. You can find it in the client area in the top-left green box next to VPN Pass. Click Show to view it.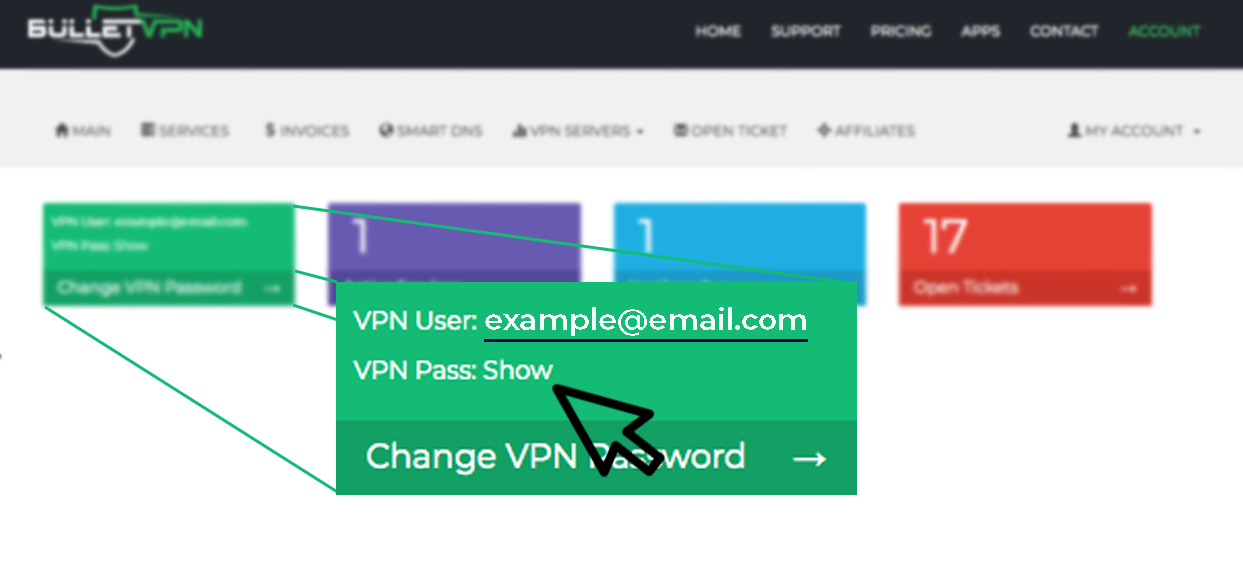 Note: Please have your Username and VPN password ready, as you will be asked to enter them later in the setup process.
---
Find the VPN server address
In order to find the server address that you wish to use, please click here: Servers List
Once you are on the servers list page, locate the VPN server address under Server Name.

---
Download the OpenVPN configuration files
In order to download the OpenVPN configuration files, click here: Configuration files
Extract the folder once it is downloaded.
---
Configure your DD-WRT router
Launch your web browser
Input your router's local IP address in the address bar. (It is usually 192.168.1.1, 192.168.0.1, or 192.168.1.254)
Input your router's login credentials when prompted
Log in to your DD-WRT router and select Services then go to the VPN tab and Enable OpenVPN Client.


Now fill out the following details:


Start OpenVPN Client: Enable
Server IP/Name: Copy the VPN server address you found above
Port: 1194 for UDP /

443 for TCP

Tunnel Device: TUN
Tunnel Protocol: UDP or TCP
Encryption Cipher:

AES-256 CBC

Hash Algorithm: SHA1
Advanced Options: Enable
TLS Cipher: None
LZO Compression: Adaptive
NAT: Enable
Firewall Protection: Disable
Leave the IP address and Subnet Mask field unfilled.
Tunnel MTU: 1500
Tunnel UDPMSS-Fix: Enable
TLS Auth Key: Copy the below Key or go to the BulletVPN OpenVPN Configuration files downloaded above. Open the file titled "wdc.txt" in notepad, copy all its content and paste it in the TLS Auth Key field.


-----BEGIN OpenVPN Static key V1-----
        54955cd7a784f68ff629a96c675cc73f
        68af676614a99d64c1417de01b0c6e9e
        a4710e54d6947857af2914e021c3ebfe
        bb536de5235ed34604cbed4885ea484f
        df14f74d976ee8b48a4e2eac50878f37
        813fcea285a7f4677f764cfc38953a81
        2d2955b142daa8a540b4c2e8d598b930
        4e7dacf621e1771c494ebafd8fa374b1
        09954be7ced0ff88e2ac82b8edfd24c6
        688fbc9eff838e4af801a8263e63a3b9
        c15f9a778ecd2821d2ae45842852aa80
        5e2fb379651742ab78bd158651d14d3c
        9cc1fdee136fc67948bac0293cdcda66
        62814e3f50aacc9f2df4ff44bfc0c851
        fac249b6d370e1f740286f124db7d6d6
        4e7e4f1d661dd4ea245dd869030e9bfc
        -----END OpenVPN Static key V1-----

Additional Config: copy the below path and paste it the Additional Config field


auth-user-pass /tmp/user.txt

CA Cert: Copy the below Certificate. Or go to the BulletVPN OpenVPN Configuration files downloaded above. Now, open the file titled "ca.txt" in notepad, copy all its content and paste it in the CA cert field.


-----BEGIN CERTIFICATE-----
        MIIDSjCCAjKgAwIBAgIQRK+wgNajJ7qJMDmGLvhAazANBgkqhkiG9w0BAQUFADA/
        MSQwIgYDVQQKExtEaWdpdGFsIFNpZ25hdHVyZSBUcnVzdCBDby4xFzAVBgNVBAMT
        DkRTVCBSb290IENBIFgzMB4XDTAwMDkzMDIxMTIxOVoXDTIxMDkzMDE0MDExNVow
        PzEkMCIGA1UEChMbRGlnaXRhbCBTaWduYXR1cmUgVHJ1c3QgQ28uMRcwFQYDVQQD
        Ew5EU1QgUm9vdCBDQSBYMzCCASIwDQYJKoZIhvcNAQEBBQADggEPADCCAQoCggEB
        AN+v6ZdQCINXtMxiZfaQguzH0yxrMMpb7NnDfcdAwRgUi+DoM3ZJKuM/IUmTrE4O
        rz5Iy2Xu/NMhD2XSKtkyj4zl93ewEnu1lcCJo6m67XMuegwGMoOifooUMM0RoOEq
        OLl5CjH9UL2AZd+3UWODyOKIYepLYYHsUmu5ouJLGiifSKOeDNoJjj4XLh7dIN9b
        xiqKqy69cK3FCxolkHRyxXtqqzTWMIn/5WgTe1QLyNau7Fqckh49ZLOMxt+/yUFw
        7BZy1SbsOFU5Q9D8/RhcQPGX69Wam40dutolucbY38EVAjqr2m7xPi71XAicPNaD
        aeQQmxkqtilX4+U9m5/wAl0CAwEAAaNCMEAwDwYDVR0TAQH/BAUwAwEB/zAOBgNV
        HQ8BAf8EBAMCAQYwHQYDVR0OBBYEFMSnsaR7LHH62+FLkHX/xBVghYkQMA0GCSqG
        SIb3DQEBBQUAA4IBAQCjGiybFwBcqR7uKGY3Or+Dxz9LwwmglSBd49lZRNI+DT69
        ikugdB/OEIKcdBodfpga3csTS7MgROSR6cz8faXbauX+5v3gTt23ADq1cEmv8uXr
        AvHRAosZy5Q6XkjEGB5YGV8eAlrwDPGxrancWYaLbumR9YbK+rlmM6pZW87ipxZz
        R8srzJmwN0jP41ZL9c8PDHIyh8bwRLtTcm1D9SZImlJnt1ir/md2cXjbDaJWFBM5
        JDGFoqgCWjBH4d1QB7wCCZAA62RjYJsWvIjJEubSfZGL+T0yjWW06XyxV3bqxbYo
        Ob8VZRzI9neWagqNdwvYkQsEjgfbKbYK7p2CNTUQ
        -----END CERTIFICATE-----

Click on Save then Apply Settings

Click on the Security Tab. Select the Firewall tab and disable SPI Firewall. Click on Save and Apply Settings again

Click on the Administration tab and select the Command tab. Enter the following script in the command box:


#!/bin/sh
touch /tmp/user.txt
echo -e "BulletVPN username\nBulletVPN password" > /tmp/user.txt

There are some changes that you need to make in the text box such as:
Replace BulletVPN username with your account email address
Replace BulletVPN password with the VPN password you found above




Click on Management Tab go at the bottom and click on Save and then Apply Settings then click on Reboot Router

Once router reboots, log in again to your router and click on Status and select OpenVPN. You can see your VPN status from this window

Seems complex? Buy a pre-configured BulletVPN Router here.